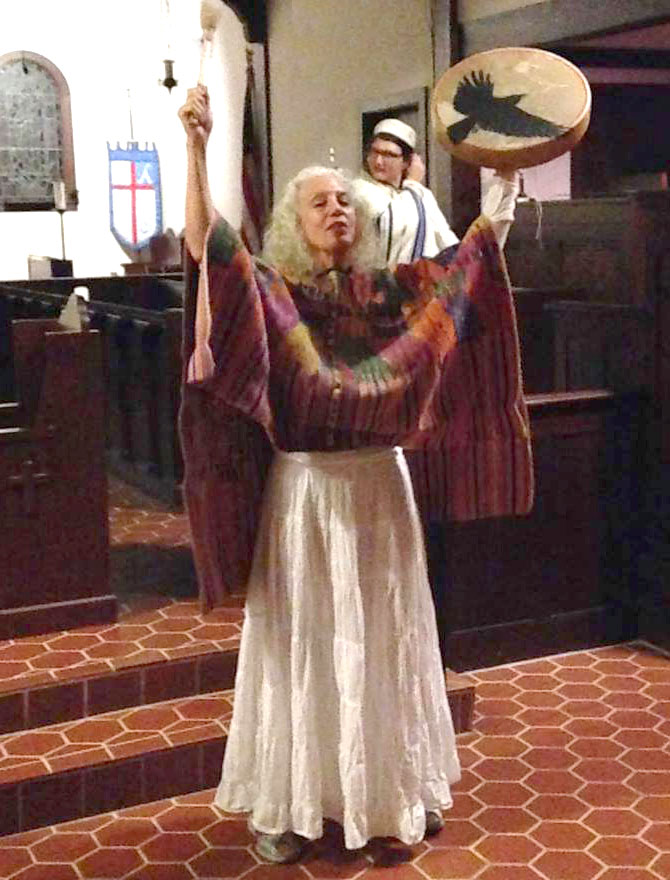 Karen Ann Shlomberg Windchild has been making art since she can remember.
Windchild's work embodies spiritual and natural forces through materials such as paint, clay, and found objects. She understands herself as an "open window" through which images and beings enter: the artist as myth maker, speaking for the ancient voices.
Each work displays honed technique, respect for craft, as well as passion for deeper meaning. Windchild believes art was and still can be a universal language, connecting all ancient native cultures as well as our own, and conjuring the earth-spirit energies into material form.
Karen S. Windchild received her BFA in sculpture and ceramics from the University of Michigan, and her MFA in ceramics from Pennsylvania State University.
She has taught at various colleges, art centers and community centers since 1973. Her work has been exhibited in galleries and museums, including the Wadsworth Atheneum in Hartford CT, the Ft. Lauderdale Museum of Art, and the Boca Raton Museum of Art.
Ms. Windchild's work is in many private collections, including the Antony Petullo Collection of Outsider Art.
She is a resident of Delray Beach FL, has exhibited and lectured nationally, and maintains a studio where she shows by appointment and accepts commissions.
---
PROFESSIONAL EXPERIENCE
Studio Artist, Delray Beach, 1984 – present
Ceramics Instructor, 1975 – 2012
Florida Atlantic University, Boca Raton, FL
Community College of Rhode Island, Warwick, RI
SUNY Fredonia, Fredonia, NY
Armory Art Center, West Palm Beach, FL
Montoya Art Studios, West Palm Beach, FL,
Levis Jewish Community Center, Boca Raton, FL
Program Director
Farmington Valley Arts Center, Avon, CT
EDUCATION
Shamanic Apprenticeship with Jaes Seis, FL, 2013-15
MFA, Penn State University, University Park, PA, 1980-1982
BFA, University of Michigan, Ann Arbor, MI, 1970-1974
Cum Laude: Major 3D Design | Michigan Teaching Certificate
Painting
Burlini Studio, 2013- present
Boca Raton Museum School of Art, Boca Raton, FL, 2006-2008
Figure Modeling, Armory Art Center, West Palm Beach, FL, 2005-2006
Advanced Ceramics, FAU, Boca Raton, FL, 1991-1992
Painting, FAU, Boca Raton, FL, 1987-1989
Ceramics, Hartford Art School, Hartford, CT, 1979-1980
Glaze Calculation, Jewelry, Hand Woodworking, Weaving, Stone Carving, 
   Life Drawing & Paper Making, Farmington Valley Art Center, Avon, CT, 1978-1980
Earth-Air-Fire-Water Workshop in Primitive Pottery, Sacramento State University, Nevada City Branch, CA, 1978-1980
Summer Program, Raw Materials Lab & Lecture, Kiln Building & Hand Building, Alfred University, College of Cermamics, Alfred, NY, 1976
PERMANENT INSTALLATION
20′ x 20′ Wall relief, Community College of Rhode Island, Warwick, RI, 1984
PROFESSIONAL AFFILIATIONS
American Craft Association
Artists of Palm Beach County
Florida Craftsman
Professional Artist Guild, Boca Raton Museum of Art